The Signorelli Co. plans to develop another residential community in Montgomery County.
The Woodlands-based developer acquired 256 acres at Airport Road and FM 1484, near Conroe-North Houston Regional Airport, with plans to build about 840 single-family homes and a new elementary school site for the Conroe Independent School District.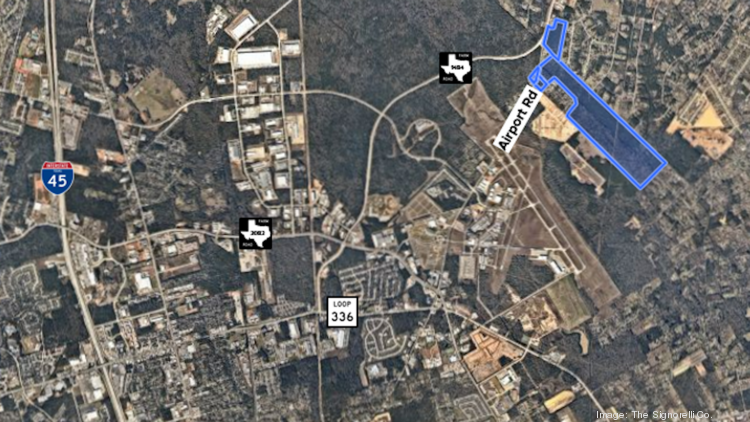 Groundbreaking for the 40-, 45- and 50-foot-wide lots is slated for the third quarter of this year, and the first phase of homes are expected to be available late next year.
More than 45 acres will be dedicated to green space, lakes and recreational amenities.
The Signorelli Co. said it will select homebuilders and have a name for the community, renderings and home price ranges later this year.
"Conroe continues to be a leading submarket in the Houston area for new home starts, making it an ideal location for our newest master-planned community," said Jeff Dewese, senior vice president of The Signorelli Co.'s land division.
Conroe ISD is currently seeking public input to name the future elementary school, which is expected to open in August 2024 and will serve students from kindergarten through fourth grade, according to its website. For 2022, Niche.com ranks Conroe ISD No. 6 among Houston-area school districts, with a total enrollment of 64,799 and a 93% graduation rate.
"We welcome the opportunity to bring this new home development to Conroe, along with a new school to support the district's growth, in a vibrant environment where area families can grow and thrive," Dewese said.
The Signorelli Co. emphasized the planned community's vicinity to Interstate 45, which is about 5 miles to the west. It's about 10 miles from Lake Conroe.
The Conroe area has seen lots of residential growth recently, in both single-family and apartment homes.
Signorelli itself announced plans in 2021 for the 265-acre Caney Mills community, which will be off Willis Waukegan Road just North of Highway 105 near Cut and Shoot.
Additionally, California-based Shea Homes is building a 740-acre, 247-home master-planned community southeast of Conroe, at FM 242 and FM 1314.
At Lake Conroe, Houston-based Wan Bridge is currently developing Lakeside Conroe, a build-to-rent community featuring 169 single-family homes and 140 duplexes.
The area apartment market has also been strong, with 1,465 recently opened new apartments in the Conroe/Montgomery submarket, according to ApartmentData.com. While rent in Conroe is lower than in some places closer to Houston, the Conroe submarket saw rent grow 22% year over year to $1,183 in December 2021.