Suburban waterfront development: Houston firm tees up infrastructure projects with apartment complex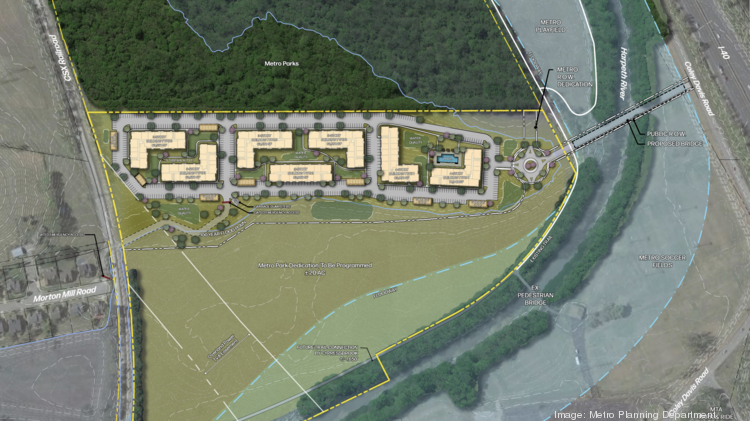 After more than two years of work, Texas developers have nailed down more site plans for a riverfront apartment complex in Bellevue, complete with a land donation to Metro Parks and a handful of other infrastructure projects.
Nashville Business Journal reported last summer that Houston-based Cypressbrook Co. was pursuing Ariza Bellevue, which would include 417 rental units in a 44-acre pocket by a large Harpeth River bend.
But today, the company also revealed plans to undertake six public infrastructure projects near the site, aiming to make its slice of Bellevue more accessible for pedestrians.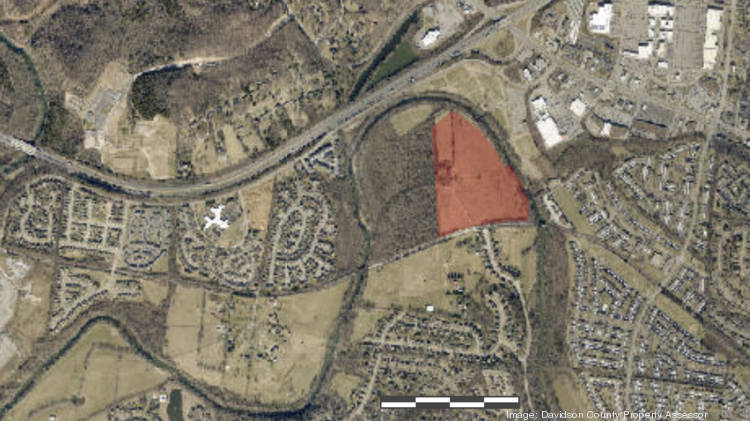 The projects, which will be funded by the developer and collectively cost at least $7 million, include:
Donating around 20 acres of the larger project site to Metro Parks and Recreation, adding to a nearby 51-acre park area donated by the The Dorothy Cate and Thomas F. Frist Foundation in 2019. The new 20 acres could hold anything from an expanded soccer facility to baseball fields or other sports-centric uses.
Creating a 500-foot bridge (which will accommodate foot, bike and car travelers) over the Harpeth River, in turn connecting the development site to Coley Davis Road, which runs parallel to Interstate 40.
Creating a Coley Davis Road bike trail.
Extending the Harpeth River Greenway south.
Creating a pedestrian tunnel under the railroad just south of the project site.
Providing vehicle access to the existing 51-acre park adjacent to the development land.
The larger Ariza Bellevue project is estimated to cost around $100 million to build, said Michael Novelli, Cypressbrook's founder and managing director. The Metro Planning Commission is scheduled to review designs at its July 28 meeting; no groundbreaking date has been set.
"We're adding a fairly dense project and surrounding it by park space," Novelli said. "This is why Paris and London are built this way — cities that have thrived for generations because they did this, allowed relatively dense development with park space all around it."
Bellevue is Nashville's fourth-hottest apartment market, boasting an annualized growth rate of 28.6% as of June, according to ApartmentData.com. For Ariza Bellevue, Novelli said he's targeting rental rates ranging from $1,400 to the low $2,000s.