Luxury apartments rising in Kyle with marquee restaurants alongside
Mighty Fine Burgers, Rudy's among eateries moving into Kalterra Capital project, exec says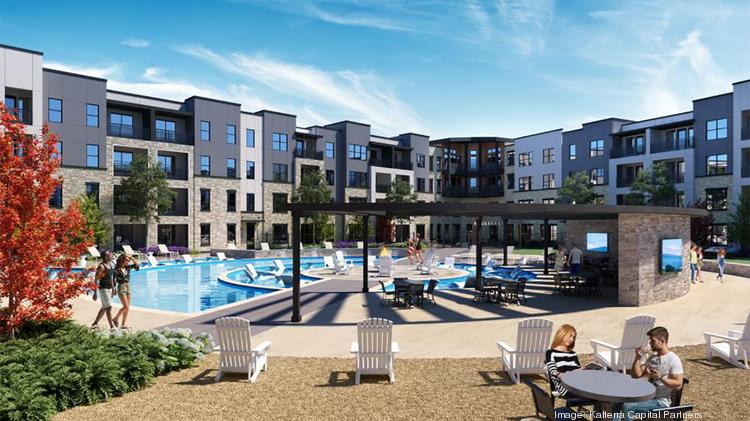 A Dallas-based real estate company is bringing luxury apartments to Kyle, and it's building several restaurant spaces alongside them, creating more mixed-use density along the I-35 corridor south of Austin.
Kalterra Capital Partners LLC announced May 23 that it will construct a 263-unit complex on 15.5 acres at the southwest corner of I-35 and Kohler's Crossing. The apartment building will take up about half of the acreage, while roughly eight remaining acres will be divided into five restaurant pads, said Nic Balsamo, a partner at Kalterra who will lead the project alongside co-founder and Managing Partner Clint Nolen.
"We only develop and build class A luxury multifamily," Nolen said. "What we have found in the last few years is, I would say almost half the time, we find ourselves having to purchase a larger tract of land that has more than just the multifamily use. Nic and his team have done a really good job of working with the local municipalities and cities to come up with an appropriate and desirable horizontal mix of uses that complement each other very well."
The restaurant tenants are Rosa's Café, Mighty Fine Burgers, Rudy's Country Store and Bar-B-Q, Tony C's and Zaxby's, Balsamo said.
The complex will have efficiency, one- and two-bedroom units, Balsamo said. The efficiency units will be 595 square feet, one-bedroom units will range in size from 675 to 1,000 square feet and the two-bedroom units will clock in at about 1,000-1,400 square feet. The average unit size is about 900 square feet.
Each unit will have quartz countertops, stainless steel appliances, nine-foot ceilings, balconies and dog yards, according to the Kalterra announcement. Complex amenities include an interior courtyard and pool, outdoor grilling stations, a pickleball court, lounge areas, green spaces, fitness and business centers, a dog spa and game rooms.
Apartments will rent for market value, Balsamo said. Because rent rates have steadily grown since the project began around two years ago and there is still more than a year left until it is completed, it's difficult to predict exactly what those prices will be.
Across the Austin metro, apartment occupancy was at nearly 92% at the start of May and monthly rent averaged $1,622, up 18.6% over the past 12 months, according to ApartmentData.com.
Contracting for the project is a joint venture between Kalterra's own construction company, Kalterra Construction, and Houston-based The Brownstone Group, Balsamo said. The architect for the project is Cross Architects PLLC, out of Allen.
Groundbreaking took place Feb. 28 and the projected completion date is early October 2023, Balsamo said.
Kalterra purchased the undeveloped land from LC 2012 Investments LP in December 2020. It was most recently appraised for tax purposes at a little more than $5 million, according to the Hays Central Appraisal District.