Kalterra Capital's multifamily development spree includes multiple Central Texas projects
Dallas-based firm has The Dylan under construction in San Marcos, The Verge rising in Kyle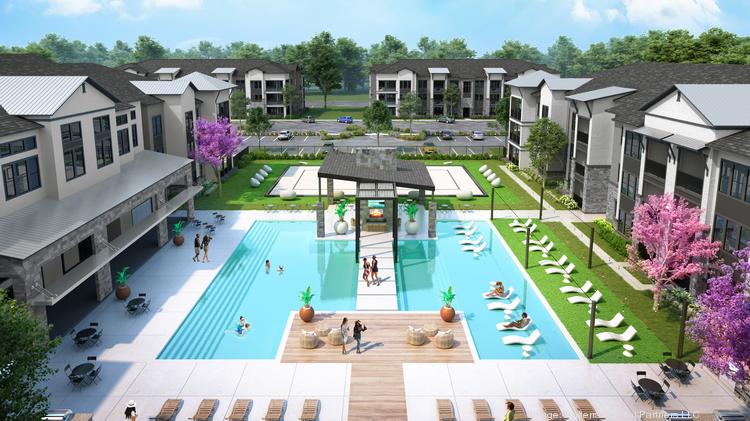 A Dallas-based developer's plan to deliver 30 multifamily communities by 2030 runs partially through the Austin area.
And Kalterra Capital Partners LLC is considering even more projects in Central Texas.
"Kalterra is currently developing and actively pursuing additional mixed-use and multifamily development opportunities throughout the Central Texas and Austin region," Managing Partner and co-founder Clint Nolen said. "We recognize the need for multifamily housing in this area and have made it our goal to deliver 30 new multifamily communities by 2030."
That includes The Dylan, a San Marcos luxury apartment community that started construction in March. The 249-unit complex at at 1476 E. McCarty Lane will have one-, two- and three-bedroom apartments and "the best amenities available to residents," Kalterra Head of Development and partner Nic Balsamo stated. Those include granite countertops, stainless steel appliances, private patios and balconies.
Construction is expected to wrap up by the end of 2023.
The general contractor is a joint venture between Kalterra and Houston-based The Brownstone Group Inc. The architect on the project is Cross Architects PLLC, and the interior designer is Dallas-based Stacey Lax Design LLC. According to Lax's website, she specializes in modern and contemporary design.
Nolen, Dean Lantos and Phil Sanchez launched Kalterra in 2016. In a 2021 story in Dallas Business Journal, Nolen described their unique site selection process that involves identifying the cities where they want to do business and meeting with local government officials before ever putting pen to paper.
Kalterra has experience in San Marcos. It developed McCarty Commons Apartments, a 224,000-square-foot, 249-unit complex adjacent to The Dylan. Kalterra completed McCarty Commons in 2018 and sold it to F1 San Marcos LLC in 2021.
"We are fortunate to have experience developing a past project in the market, which helps us refine our community's design and deliver a product that will excite our future prospective tenants," Balsamo stated.
Further up I-35 in Kyle, Kalterra is developing The Verge, an apartment community with adjacent retail space.
On its goal to develop 30 communities by 2030, which was set in 2020, the company has completed five, with five more under construction and more in the development and pre-construction stages.
In North Texas, Kalterra is developing 142 townhouses, office and hotel spaces, restaurants, retail options and 366 units of multifamily residences in Grand Prairie for a project called Midtown GP.
As of June, the Austin metro had 38 apartment communities under construction, representing 10,335 units, according to ApartmentData.com. Additionally, Austin recently ranked No. 12 nationally for number of apartments in mixed-use buildings with 7,800, according to RentCafe.