Here's why Brookhaven passes this developer's test for new apartments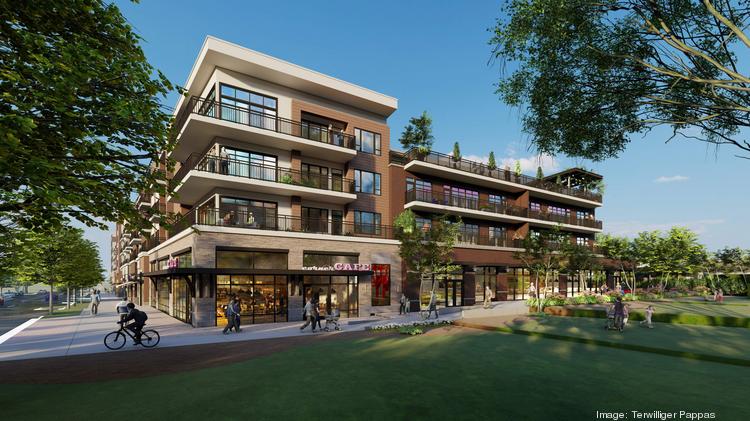 As multifamily firms flock to Atlanta in the midst of an apartment shortage, Terwilliger Pappas keeps a list of priorities in mind when considering where to develop new units.
A small but flourishing section of Dresden Drive by Peachtree Road checks all its boxes: walkability, transit access and proximity to grocery stores, restaurants and greenspace. It's why the firm is teaming up with retail investor and developer Connolly to create Solis Dresden Village, a mix of 176 residential flats, seven townhomes and 30,000 square feet of sidewalk-facing commercial space.
The development, now under construction with an expected opening in mid-2024, will be a short walk from the Brookhaven-Oglethorpe MARTA rail station, restaurants and shops. It's also relatively close to job centers in Buckhead and Central Perimeter.
Over the past two years, rents rose to new heights in every corner of metro Atlanta. The cost of renting an apartment in Intown Atlanta has surpassed attainable levels for some apartment dwellers, turning their attention toward quieter suburban cities. The average asking rent for an apartment in Brookhaven is now $1,747, compared with $2,211 in Buckhead and $2,105 in the Midtown area, according to research from ApartmentData.com.
"The suburbs, quite frankly, have outperformed the infill markets from a rent growth story for a number of years now," said Alan Dean, Southeastern CEO at Terwilliger Pappas. "When the pandemic hit, it threw gas on the fire… because people could live wherever they wanted while doing their job."
It's often less costly for developers to build units in suburban areas than in the urban core, given rising construction costs, interest rates and land prices.
"It's getting harder and harder to underwrite a deal," Dean said. "We've heard of a number of deals falling out… If we hadn't had that rent growth to offset those construction costs increasing, we could never have gotten the required yields we have to get to get these deals financed."
The start of the construction process coincides with Brookhaven's latest step toward creating a city center. Local leaders signed a lease agreement to build a new city hall in front of the rail station, viewed as a way to spur further development and attract corporate jobs.
Terwilliger Pappas is best known for apartment and townhome deals in suburban areas of Atlanta and other Southeastern markets. It has completed or is in the process of developing new units in Sugar Hill, Duluth, Gainesville, Cumming, Suwanee and Decatur.
For Solis Dresden Village, New South Construction will serve as general contractor, Rule Joy Trammell + Rubio will handle architectural and interior design and Kimley-Horn will serve as the project's civil engineer.